Twitter
Pickup information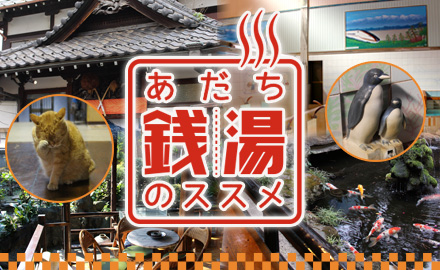 Recommendation of Adachi sento "Yamatoyu"
There are still hot days. For those who want to adjust the rhythm of the body, which is disturbed by the difference between the air conditioning and the outside temperature, we introduce "Yamatoyu", a hot spring bath for people who say "the bathhouse is hot".
Gourmet information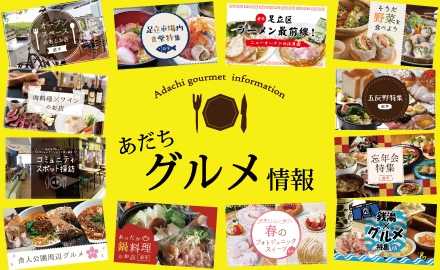 Adachi gourmet information
There are a lot of delicious things in Adachi-ku!
We deliver gourmet information for each theme, such as the hot topic shops and hidden shops.
Town events information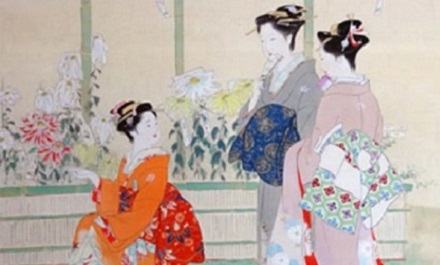 Autumn flowers and cool breeze exhibition
The autumn exhibition of Rokumachi Museum Flora is "Autumn Flowers and Cool Winds". Other works by Ito Kominato, Buffet, Takanori Susu, Kyoko Kataoka, Hope Kodama, Ryohei Miwa, Tanuki Aoyama and others will be on display.
Spot information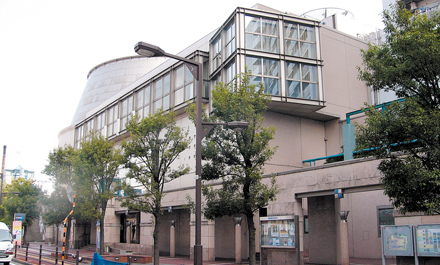 Gyarakushi tee
Galaxcity is an interactive complex where you can learn while playing. You can enjoy various experience programs such as Maruchita Iken Dome (planetarium), huge net playground equipment, and workshops.