"Sherman Sakura Festival" will be held
 (一財)足立区観光交流協会は、今年も足立区・東京都と共催で「舎人公園千本桜まつり」を開催します。
 約千本の桜の花が見ごろとなる舎人公園で、物産展やステージなど様々なイベントを開催します。
 今年で開業10周年となる日暮里・舎人ライナーに乗って、ぜひ舎人公園にお越しください。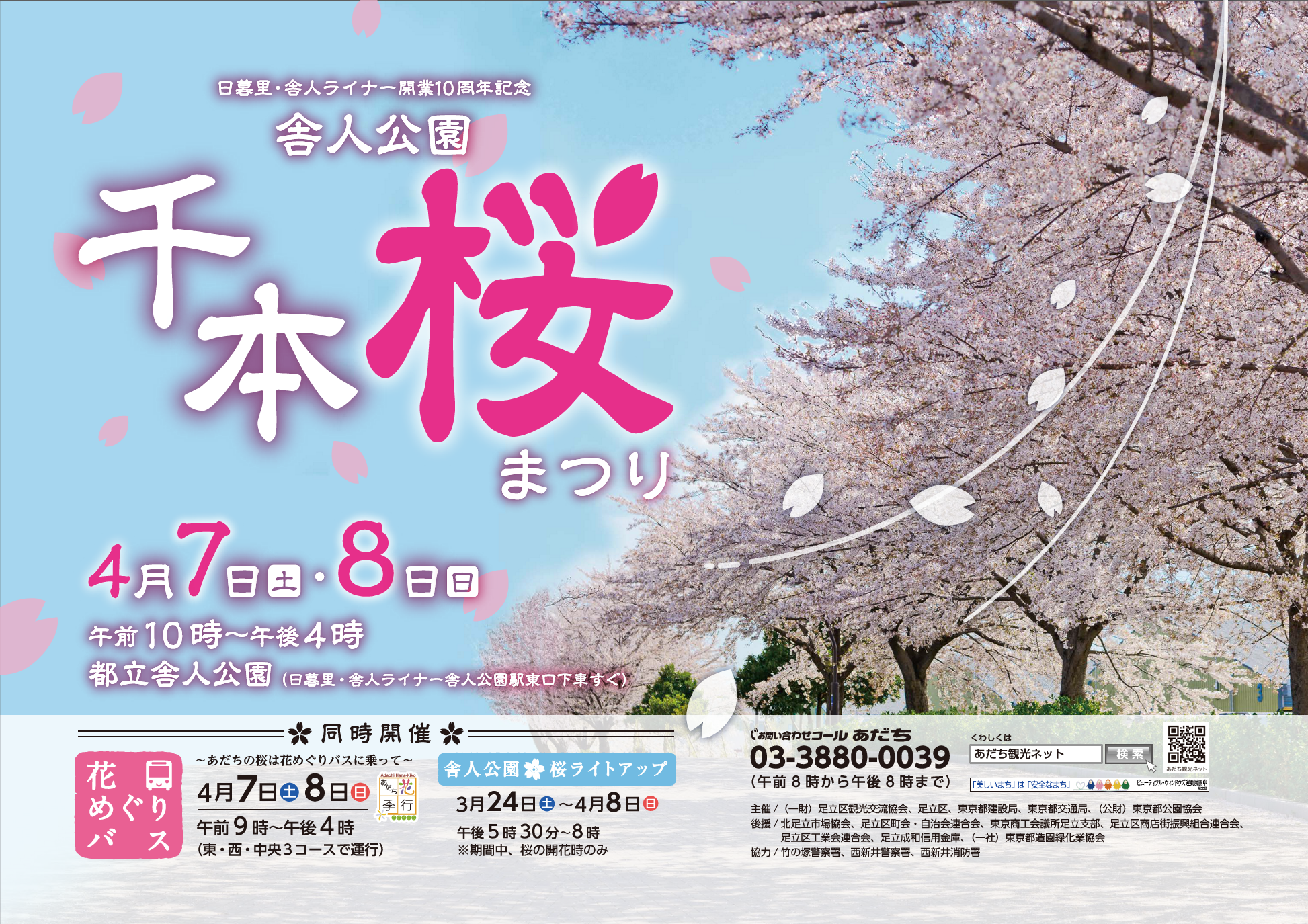 [Date]  平成30年4月7日(土)・8日(日)両日とも午前10時から午後4時
【Venue】  都立舎人公園(足立区舎人公園1-1ほか)
【主催】  Adachi Ward Tourism Exchange Association, Adachi Ward, Tokyo Metropolitan Government Construction Bureau, Tokyo Metropolitan Bureau of Transportation, (Tokyo Stock Exchange Association)
【traffic】  日暮里・舎人ライナー「舎人公園駅」東口下車すぐ
Concurrent event
● Infant Hana Seikei Flower Making Bath ●
I will operate the flower sights in Adachi-ku.
We will operate the west, central and east courses at approximately 20 minute intervals. On the day, you can purchase a flower-selling bill (300 yen valid for 2 days) to sell at the bus stop and get on.
【Operation date】  4月7日(土)・8日(日)
【time】  午前9時から午後4時まで
【cost】  2日間有効手形300円
 ※小学生以下無料
 ※事前販売は4月2日(月)から6日(金)まで(一財)足立区観光交流協会窓口(足立区役所南館4階)にて受付。
● Temple Park Sakura Light Up ●
Starting from welcoming by illumination at the entrance in front of the station on the eastern side of the Maiden Park, we will light up the cherry blossoms to Ohanami Square.
Please enjoy the cherry blossoms of the night at the savage park, which is a little different.
【event date】  3月24日(土)から4月8日(日)まで
        ※ Only during cherry blossoms during the period
[Lighting time] 午後5時30分から午後8時まで
【place】   都立舎人公園