Adventure of the Feast of Winter Feast "Festival of the Light 2017" will be held!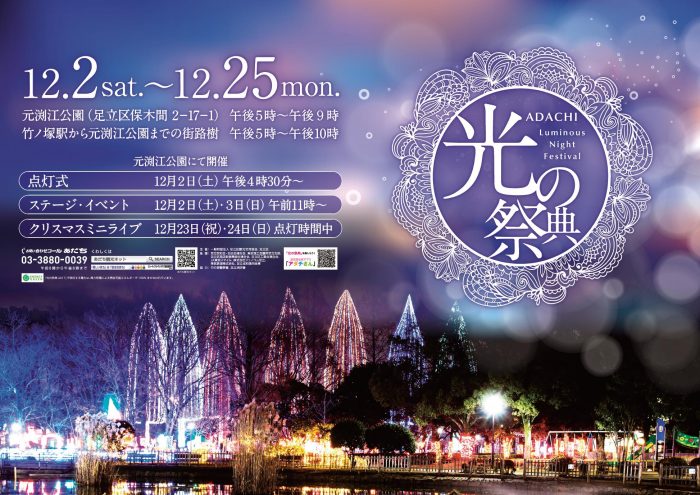 We will hold the Advent of Winter Feast of Advent "Light Festival" this year as well. Illuminations of about 700,000 balls will color the bamboo shoots.
At the main venue, Motobu Jiang Park, the most interesting thing is the tree lighted with 8 rare natural trees over 20 m in the country and a beam light.
Futuyama beach which is popular last year also appears. In addition, it is full of new tricks and photo spots!
Please come and visit us.
【Venue】
★ Motobuchi Ekoen (Adachi-ku 2 - chome Adachi - ku, No. 17 No. 1)
★ Street tree from Takenotsuka station to Motomuchi Jiang Park (Bamboo noodles Keiichi Odori)
【period】
From Saturday, December 2nd, to Monday, December 25th
※ The street trees (Takezuka Keiyaki Odori) from Takenotsuka station to Motomuchi Jiang Park,January 10, Heisei 30 (Wed)Until
[Lighting time]
From 5 pm to 9 pm (Takeyukuzuka Keyaki is at 10 pm)
◆◆◆ Events are held at Motomuchi Jiang Park on December 2 (Sat) and 3 (Sun) ◆◆◆
★ Lighting formula ★ 
December 2 (Saturday) 4:30 pm -
★ステージショー・物産展・模擬店★ 
December 2 (Saturday), 3 (Sun) 11 am -
★ほっとカフェテリア★  
Saturday, December 9 (Sat), 10th (Sunday), 16th (Sat), 17th (Sunday), 23 (Sat), 24 (Sun)
【Contact Us】
Adachi Ward Tour Association Foundation General Tel: 03 (3880) 5853