House de fireworks of Adachi
Reiwa 2This year's Adachi fireworks have been canceled to prevent the spread of new coronavirus infections..
Enjoy on the web! Adachi fireworks
Video provision/cooperation/Saha Entertainment
* Click the image to move to the video sharing service Youtube (external site).
A special edition full version such as "The 41st Adachi Fireworks" will be released on YouTube for the first time!
Unfortunately, the 42nd Adachi Fireworks was canceled. For many people who have been looking forward to it, I hope that you will be energized through the fireworks. With that in mind, we have released a special edition full version (about 50 minutes) such as last year's "41st Adachi Fireworks" from 19:30 on Saturday, May 30, which was the start time of this year's launch. ..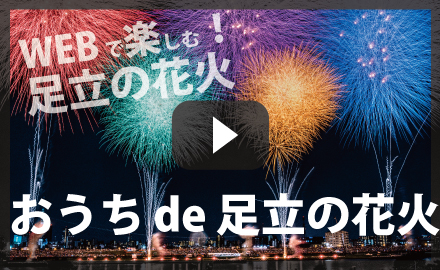 * You can watch it by clicking the above image from 19:30 on Saturday, May 30th.
Please enjoy "Adachi Fireworks" from a viewpoint that can only be seen in images.
Viewpoint 1 In an atmosphere like being in a grandstand (3 cameras, multi-angle) ...Click here for video
Viewpoint 2 I want to see "Adachi Fireworks" from the sky! …Click here for video
Viewpoint ③ What is the point of launching fireworks! ? …Click here for video
Viewpoint ④ I want to know from the process of making fireworks balls to the launch ...Click here for video
↓↓ "41st Adachi Fireworks"Opening and finaleVideo↓↓
↓↓ "41st Adachi Fireworks"Aerial shooting video using a drone↓↓ * Photographed with the prior permission and consent of the organizer and related organizations
↓ ↓ [Treasure picture! ! ] "The 41st Adachi Fireworks"of360 ° VR image from the launch point↓↓
↓ ↓ "40th Adachi Fireworks" etc.ofDocumentary footage from fireworks production to launch↓↓